Happy Wednesday!!!
Chicago has finally been hit with a cold front and winter has arrived!!
As we come to the end of the year, your dental benefits may be expiring. But there is one thing that is stopping you- your fear to even get your foot in the door!
You should visit your dentist at least twice each year, right?  But people avoid the dentist due to dental fears and anxiety. As a result, these patients put their oral health at risk by avoiding the dentist until a serious problem has developed. And we don't want that!
Fear of the unknown
Fear of dental equipment
Sensitive gag reflex
Fear of loud noises
Fear of not being in control
Today, we'll talk about sedation dentistry so that visiting the dentist doesn't have to be as scary or uncomfortable.
With sedation dentistry, you'll feel completely relaxed and at ease during your visit and dental procedures. As a sedation dentist in Lakeview, Sugar Fix Dental Loft offers numerous forms of sedation to help you feel more relaxed.
Benefits of Sedation Dentistry in Lakeview
Comfortable dental visit

Safe and effective approved treatment

Little or no recollection of the treatment

No anxiety or stress during treatment
Using a variety of anesthetics, Dr. Brittany Dickinson is able to eliminate the discomfort, pain, and anxiety you feel when at the dentist. We evaluate your exact fears and concerns to determine the most appropriate form of sedation to use.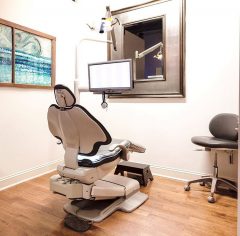 Types of Sedation Dentistry Offered at Sugar Fix Dental Loft
Oral Sedation – Dr. Dickinson can prescribe a medication like Valium or Diazepam, that you will take both the night before as well as the morning of treatment. This FDA-approved prescription provides the perfect level of relaxation for you while still allowing you to be responsive and alert. This solution works well for the majority of our patients and allows them to sit through their cleaning or dental treatment with ease.
At Sugar Fix Dental Loft, we make it our mission to create a peaceful dental experience while caring for your dental needs. If you've been putting your dental health on hold due to fears and anxiety, please don't wait any longer!  We are here for you don't want you to wait for a problem to develop! 
Please contact our office at (773) 883-1818 to schedule an appointment! Also, check out our free e-book on Sedation Dentistry to learn more!
Until Next Time,