READY FOR GORGEOUS COSMETIC DENTISTRY IN CHICAGO?
Get the smile you've always wanted!
The beauty of your smile can make a difference in your whole outlook on life. When your smile looks its best, you feel confident and happy. However, if you have evident imperfections in your teeth, you may feel just the opposite.
HOW DO WE GET STARTED?
Before beginning any cosmetic treatment, Dr. Dickinson conducts an initial consultation to learn more about your aesthetic goals. At that time, she will recommend the best course of treatment to meet your specific needs.
No matter how minor or extensive your needs may be, Dr. Dickinson and her dedicated team will do everything possible to give you the smile of your dreams.
Top Cosmetic Treatments:
Porcelain Veneers
Porcelain veneers are excellent for masking cracked, chipped, broken, discolored, or slightly misaligned teeth. They are customized tooth casings that 'are bonded' and fit tightly over the tooth, hiding imperfections. Veneers are specially made to match the natural tooth enamel, resulting in a clean, natural-looking, flawless smile. With our advanced capabilities, porcelain veneers can be placed in a single office visit.
Six Month Smiles®
Six Month Smiles® is a cosmetic treatment option that straightens only the visible teeth when you smile. With total treatment times lasting an average of four to six months, this option is great for adults, students, and professionals who only have aesthetic concerns. Six Month Smiles® uses clear brackets and tooth-colored wires, so even during this short duration, your treatment will be incredibly discreet.
Dental Implants
Dental implants are a permanent solution to replace one or more missing teeth. An implant is a titanium post that is surgically placed in the jawbone to function as the tooth root and support a prosthetic tooth. In addition to improving the appearance of your smile, dental implants restore the functionality of your teeth. Dental implants are comfortable, durable, convenient, and allow patients to eat, speak, and smile again.
Tissue Recontouring
Tissue recontouring improves the appearance of the gums by reshaping them to complement your teeth. A simple tissue recontouring procedure can significantly enhance patients' smiles with uneven or exaggerated gums. We use the advanced Ivoclar Vivadent Odyssey® 2.4G Diode Laser to sculpt gums into a more pleasing shape and better proportion.
Cosmetic Bonding
Cosmetic bonding treatment involves using a resin composite material to reshape the teeth or correct cosmetic flaws such as cracks, chips, or stains. Dr. Dickinson applies and sculpts the substance by hand, then uses a special light to harden it. Results are natural-looking and can last 10 years or more.
Whitening
Who doesn't love a bright, white smile? At Sugar Fix, we offer KOR whitening and Zoom 2, both of which are professional in-office whitening brands. If you would prefer to whiten at home, we also offer take-home whitening kits for your convenience.
Smile Makeover
A smile makeover is any combination of cosmetic treatments and procedures to produce a picture-perfect smile.
Invisalign®
Invisalign® is a revolutionary system that inconspicuously straightens misaligned teeth or an incorrect bite. A series of clear, plastic trays are designed specifically for your smile; when worn in the proper sequence, they shift the teeth into the correct position. The aligners are comfortable to wear and removable for easy eating, brushing, and flossing. Invisalign® trays should regularly be worn; however, they are virtually unnoticeable to others. If you want to achieve a perfectly aligned smile without traditional metal braces, Invisalign® is an exceptional alternative.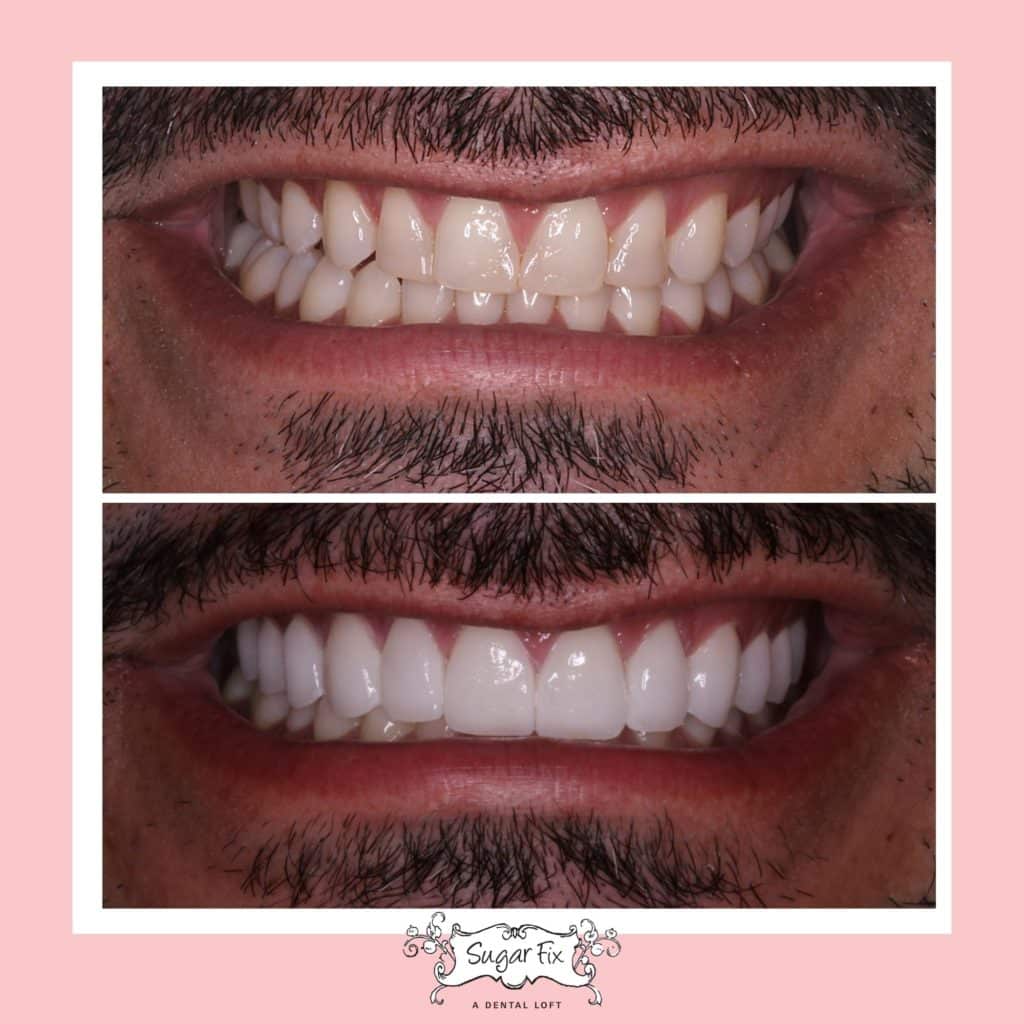 Ready for results?
Click to see Dr. Dickinson's actual veneer cases.
These patients love their smiles because of their new veneers – and you can too!
Take control of your smile!
Dr. Brittany Dickinson has special training in outstanding patient care from the Dawson Academy in Florida and Full Mouth Rehabilitation (FMR) in New York. She has extensive upper level cosmetic dentistry training from Aesthetic Advantage in Manhattan. She is also a certified injector with the American Academy of Facial Esthetics.