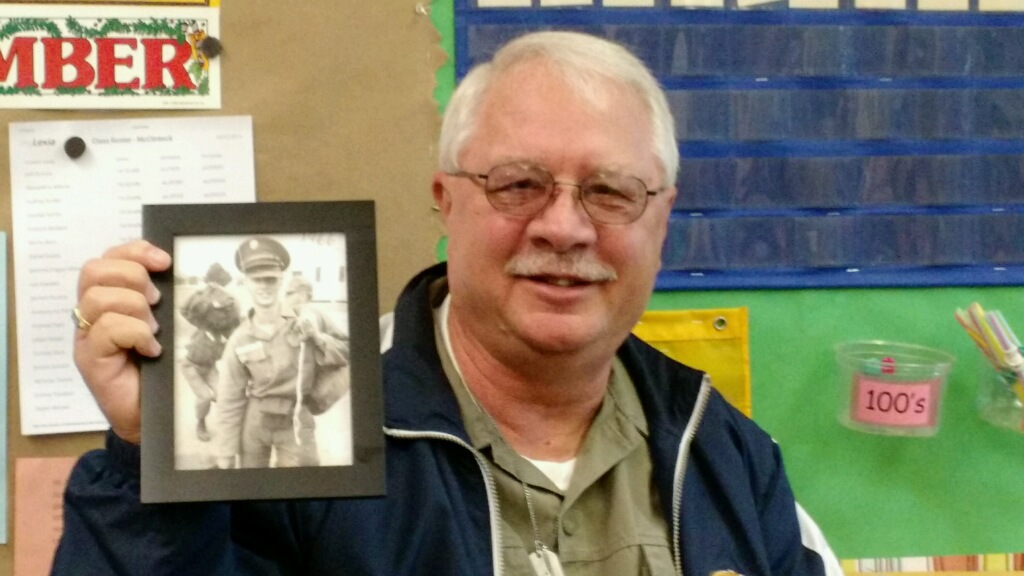 I was sharing pictures of my dad with the Sugar Fix Team today & they immediately wanted the world (at least our Sugar Fix world!) to know about him! They've heard me talk on and on about the man that I consider my "John Wayne".
My dad's name is Donald Goodhart and he proudly served in the United States Army from 1966-1969. My dad fought in Vietnam from January 1967- January 1968. This year marks the 50th Anniversary of the start of the war.
Every year on Veteran's Day I make sure to call my daddy to thank him for his service and for protecting the freedom I so dearly love. I make sure my children call him individually to do the same. My sister is a 1st grade teacher in Chardon, Ohio & invites our daddy to come to her classroom to speak to her students.
The picture with this post is from today's talk. My dad is holding a picture (a very handsome one, I might add) of himself as a young soldier. Today, my dad is considered 100% disabled by the US Military due to his exposure to Agent Orange. For obvious reasons, I'm so thankful he did not lose his life in Vietnam; but he does suffer on a daily basis and has for 27 years because of his time spent in Vietnam.
Many people don't know this about my dad- he is a proud man is incredibly proud to have served for all of us. He is not alone, as there are countless men and women who have done the same & continue to do so for us. Thank you Doctor for giving me the opportunity to share with everyone the man that I consider to be a true American hero.