We had a whitening week here at The Loft!
There are a few options we provide for whitening here at Sugar Fix Dental Loft. We had a patient come in for a consult that was really wanting to whiten her teeth, and has been wanting to for years. Unfortunately, she thought she wouldn't be able to because her teeth get sensitive. But we told her not to worry!
Many of our patients want to know how to whiten sensitive teeth, and this week, we have a great tip for you! Dr. Brittany Dickinson always recommends that our patients use Flouridex, it is a fluoride toothpaste with sensitivity relief. You would use this 2x a day in place of your regular toothpaste before doing your in-office whitening. We have had patients with no sensitivity at all during their procedure because they used the toothpaste for two weeks. It works great! Besides just for sensitivity, Dr. Dickinson recommends Flouridex to many of our patients that are prone to decay or "soft" teeth. It really is a great product to use overall and to whiten sensitive teeth!
The patient below did our KOR whitening, which shows AMAZING results. KOR is a bit different from our In-Office whitening, Zoom. KOR whitening is where you come in for your first appointment, we help desensitize and condition your teeth to get them ready for your whitening. Then, you use the whitening gel we provide you, along with your custom whitening trays, and wear them every night, for 6 weeks. The results will SHOCK you. We can't wait to see the outcome of her brighter, whiter smile! Don't worry, we'll let you take a peek too!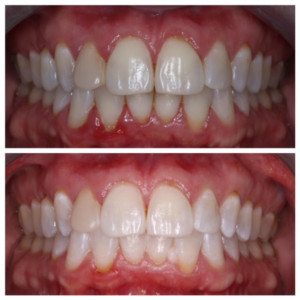 We also had a patient come in and do our in-office whitening, ZOOM, which works amazingly well too! She wanted to lighten a few shades, and she was so happy with her outcome!
We hope you all have an amazing weekend!
Until next time,
The Sugar Squad