So you're told you need a deep cleaning…
"A deep cleaning?"
"But didn't I just have a cleaning?" "What is my dentist talking about?"
The dental terminology can come across as confusing to many, so it's always our job at Sugar Fix Dental in Chicago to make sure that understanding is mutual when we have our patients in our hands.
In this blog post, we will be answering all the questions about deep dental cleaning.
The technical name of the procedure that your dentist or hygienist has recommended is Scaling and Root Planing, otherwise known as SRP. Dental professionals put it in layman's terms as a "deep cleaning" because it is more advanced than your typical cleaning appointment. At routine cleaning visits, every surface of your tooth is accessible so bacteria is removed with simple instruments.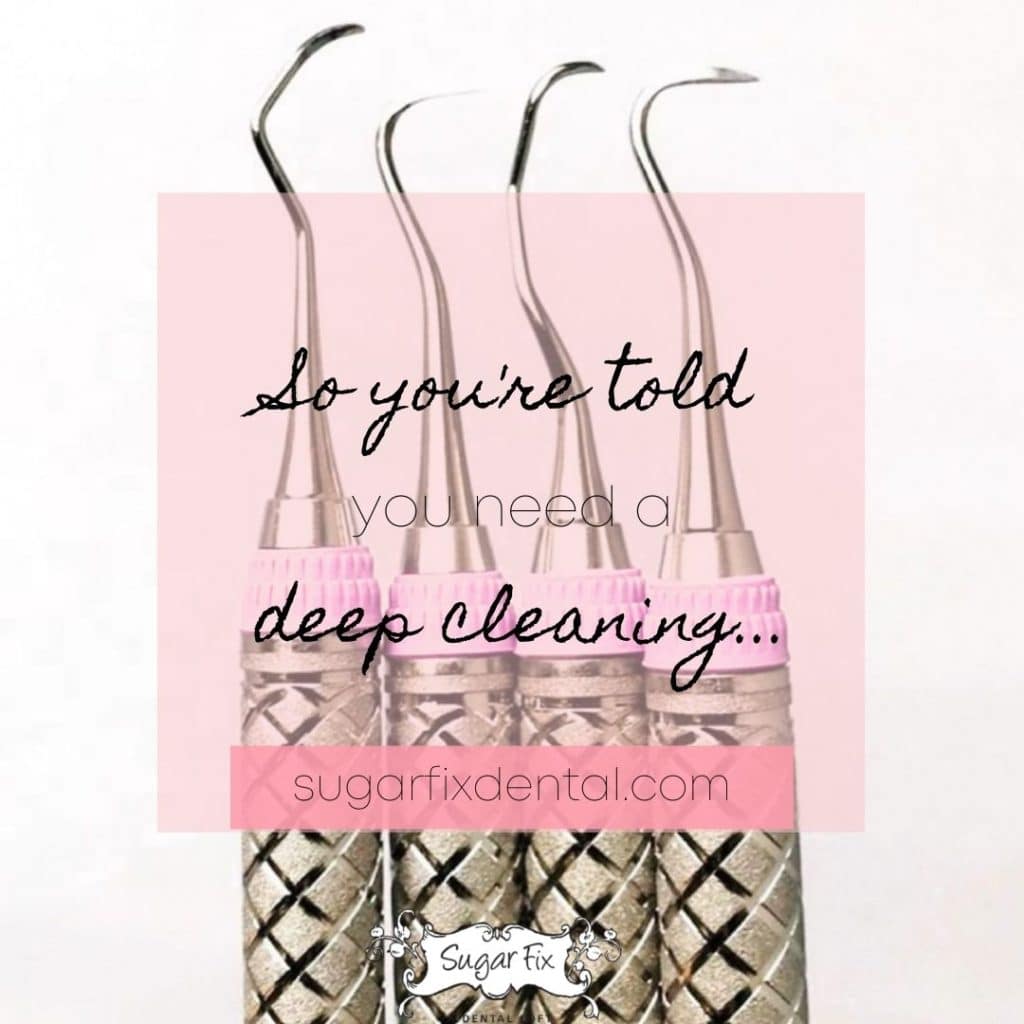 SRP is needed when the state of your gums has progressed from healthy to gingivitis and onto periodontal disease.
When looking in the mirror, it's apparent that teeth are surrounded by gums. Below the soft tissue surface is bone that supports your teeth and keeps them stable in place. When plaque and harmful organisms stay along your gum line for too long without being removed, they start to cause inflammation and burrow their way below the surface of the gums. Once under your gums, bacteria starts to destroy not only the gum tissue but also the bone. This bone loss is not obvious, nor visible, and not even able to be felt in any way. Only a dental professional can screen for this with the use of x-rays and small measuring tools.
The goal is to catch early signs of periodontal disease before this destruction even starts, which is why visiting your dentist for routine check-ups is key.
When told that they need Scaling and Root Planing, patients typically wonder what that appointment will entail. Each tooth is completely cleaned from the base of where the tooth is held in by the bone all the way to the biting surface of the tooth. Accessing that far below the gums can cause some discomfort so we offer the option of being numb during the procedure. This is just a courtesy for ease of comfort during the treatment and isn't necessary if the patient chooses to pass up on the anesthesia. We use a cavitron ultrasonic scaler which uses water and vibrations to irrigate and flush out bacteria from the pockets of your gums. Bleeding is very normal in this procedure because we are removing the bacteria that has made its home beneath your gums. Once the bacteria is removed, your gums have the opportunity to form a new healthy bond with your tooth and grow back into a perfect union.
Afterward, your gums may be extremely sore. They went through a boot camp at the dentist to get them back in shape.
Just like muscles are tender after a workout, the tissues in our mouth feel similar when they're getting back to the pink and scalloped ideal condition. They are gaining the strength they need for defending themselves against bacteria that seek to destroy them. As with any workout routine, your gums need daily upkeep and that is flossing! Be sure that the floss is gently sliding down the side of each tooth to get beneath your gumline. Flossing doesn't need to be aggressive by any means, but just ensure that all surfaces of the tooth under your gums are smooth. Incorporating an alcohol-based mouth wash is great for reducing bacteria as well.
Typically, we love to see patients back on a more frequent basis for future dental cleaning appointments after SRP has been completed. This is extra time to examine your gum tissues and make sure they are on track with improvements. We complete periodontal maintenance, which is another cleaning that is supplemental to SRP but not as invasive. These procedures are done every 3 or 4 months, based on the personal progression of your gums.
Some patients stay on this recall schedule forever, some may graduate back to a 6-month schedule. Improvements of home care and oral hygiene regimen on your own make the biggest difference in how often an appointment needs to be made.
Being told you need Scaling and Root Planing can sound very intimidating at first but isn't anything to be afraid of.
It's a preventative measure to treat your gums while they are still in the early stages of periodontal disease. Once needed, it is impossible to treat this condition at home so seeing your dentist for this visit is the first step in the right direction. Periodontitis can advance fast and early detection/treatment is the goal to stop progression in its tracks. If you've been avoiding this treatment or it's been a while since your last dental check-up, give us a call so we can give those gums a new life again!