If you have visited Sugar Fix recently for your routine check-up and cleaning appointment, you know we love the most modern technology and our hygienist may have introduced you to a dental instrument called the Ultrasonic Scaler.
Many patients have questions about what this instrument is, what it does, and why they may have never seen it before? These are all fabulous questions that are on the minds of numerous patients, so we'd like to share a few thoughts with you on Ultrasonic Scalers. While we love to write our blogs to be about fun brands and recommendations, we also know it's important to educate our readers on various dental topics. Hopefully, you'll find this blog post to be informative with a Sugar Fix twist!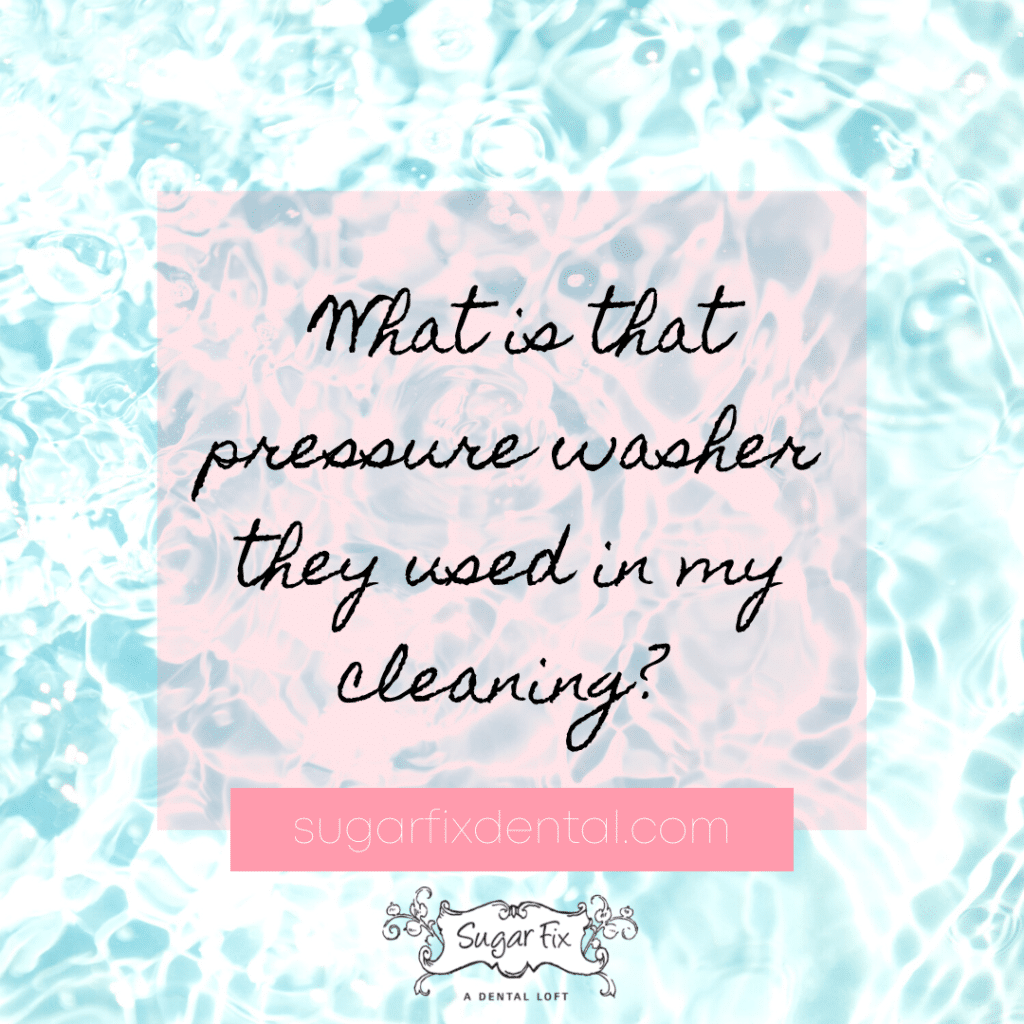 Ultrasonic Scalers (USS) are not new to the dental field.
In fact, power scalers have been used in dental offices as early as the 1950s! What has changed since the '50s is our knowledge of the ways we can use these instruments. When invented, the Ultrasonic machine was intended to remove plaque and calculus (calcified tartar buildup) from exclusively above the gum-line. Since then, advancements in the healthcare and dental fields have made the scaler safe to effectively clean the root surfaces of teeth below the gums!
The device creates a powerful stream of oxygenated, 'bubble-infused', water that flushes out bacteria. In conjunction with the super-sonic vibrations, the Ultrasonic will blast off tartar while irrigating the pockets between your gums and teeth all at the same time.
By disrupting the bacterial biofilm that harms our tissues, we ensure a healthy and happy smile.
Some people may be suspicious that this is a lazy version of getting your teeth cleaned or cutting corners, but that is definitely not the case! Hygienists and dentists are specifically trained to use these power scalers; each brand of USS differs slightly from the next and has multiple instrument tips that are used for specific tooth surfaces and periodontal pocket depths. Sounds complicated, but you can rest assured at Sugar Fix knowing that you are in the hands of dental professionals who evaluate each person's case individually and follow the best course of action. The use of Ultrasonic scalers can cut down significantly on time spent in the dental chair removing plaque and calculus from your teeth – who doesn't love an efficient boost in their day? We love making the most of your time at our loft with us.
If you are a patient who has never had the Ultrasonic scaler used during an appointment, you may be surprised when it is used on you for the first time. There are some stark differences of the Ultrasonic that aren't conventional with the use of traditional hand instruments. For example, USS often creates an aerosol spray, but this can be compared to a mist of water that you might spritz on yourself on a hot summer day in Chicago! We use the suction at the same time so you don't have to worry about the water production and we take ample breaks to let you rest your jaw. Additionally, there is a high-pitched buzzing sound that is emitted from the instrument. This can be easily combated at Sugar Fix by putting on our Bose noise-canceling headphones during your visit (and listen to your favorite music or watch a flick instead). Dr. Dickinson & the Sugar Squad will ALWAYS put your comfort at the top of our priority list!
In the last few years, online retailers have been offering an at-home "Ultrasonic scaler" that claim to remove tartar. While this is highly tempting to be able to have that fresh and smooth feeling of professional dental cleaning at home, we never recommend a patient to use these products. Without the proper training or educational background, this can end up harming your teeth and gums by breaking enamel or damaging your gingival tissue. Save yourself the time and money, you can always schedule an additional dental cleaning appointment with our hygienist if you feel like your plaque buildup is accumulating faster than desired.
The general consensus in the dental community is that the standard of patient care is met by using both hand instruments and Ultrasonic scalers. This provides our patients with the best quality of care possible and leads to the achievement of overall periodontal health. At every visit, your hygienist is evaluating your oral status to make sure we are following the best-individualized game plan! Be sure to ask any of us about Ultrasonic scalers during your next hygiene appointment at Dr. Dickinson's office.