You've seen The Doctor's advertisements on the El stops.  You've seen pictures and videos of her on Sugar Fix Dental Loft's website and on social media.  She always looks fabulous, from her beautiful dresses to her hair and make-up.  Behind all of those pictures and videos, there are a host of folks making things happen.  From the photographer or cinematographer to the stylist to the hair & make-up artist.
Today I'm going to share with you the story of our main hair & make-up artist.  Her name is Jennifer Akhnana.  I met Jennifer at the salon where she works.  I was looking for a local hair and makeup artist that would like to be our "go-to" person for photo & video shoots and I feel like I totally hit the jackpot when I met her!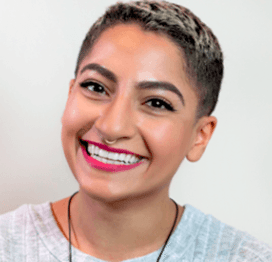 Upon meeting Jennifer, you will see why we LOVE working with her.  She emits amazing energy- so positive and full of happiness.  That all comes through in her work; her end results are always drop-dead gorgeous!  She LOVES what she does for a living, and it shows in all that she does!
Jennifer is "mobile"- meaning that she can (and has) worked at The Doctor's house, inside The Loft, and also at her own condo in Chicago.  She brings all the supplies necessary so that The Doctorcan sit back and relax (well- The Doctor actually works on her phone while she's getting her hair coiffed), and then she cleans up after herself when she's finished.
This year, we hired Jennifer to style The Doctor's hair & make-up for a full-day shoot in Fulton Market.  She was responsible for changing The Doctor's look six times that day.  This is not a job that you can just show up to the day of the event and wing-it, it required several meetings before the actual shoot date with other members of our creative team beforehand so that she could truly be prepared to stylize each different look.  On the day of the shoot, in addition to making The Doctor look truly sensational, she also had to be on-site while filming was happening, providing touch-ups as necessary.
Outside of photo and video shoots, Jennifer is The Doctor's personal hairstylist.  They meet every two weeks to keep The Doctor's locks looking amazing and healthy.  The Doctor is not Jennifer's only client.  Her days off at the salon are booked with clients through her mobile beauty business.
Growing up, Jennifer's mother was a hairdresser.  Her mother's father was a hairdresser as well!  (So you could say it's in her blood!)  Some of Jennifer's earliest memories come from being in the salon where her mother worked, arriving after school, and spending time there on the weekends folding towels.  Jennifer LOVED it!  In junior high, Jennifer loved playing with her friends' hair.  Styling it for them really taught her a lot about her future profession!
As I was chatting with Jennifer about her "story," she said something that really stuck out to me.  She said her mom did hair to survive, to pay the bills, and to provide for her children.  Conversely, Jennifer does hair to create and to express her creativity; it just so happens that her profession helps pay her bills!  Jennifer's mother DID NOT want her to become a hairdresser.  She wanted her to go to college.  So she did, for 1.5 years thinking she'd eventually become an art teacher.  But…Jennifer really felt pulled back to hair, and she had to listen to her heart.
For that, The Doctoris THRILLED that Jennifer listened to her heart and followed her passion.  Jennifer has a keen eye for what would look best on her clients, while balancing the fine art of listening to what her clients really want with their style and then executing it perfectly.
If you'd like to see some of Jennifer's "artwork," you can follow her on Instagram at: jwade_89.  You can, also, get in touch with her there if you'd like to schedule your own appointment with her!  You won't regret it!