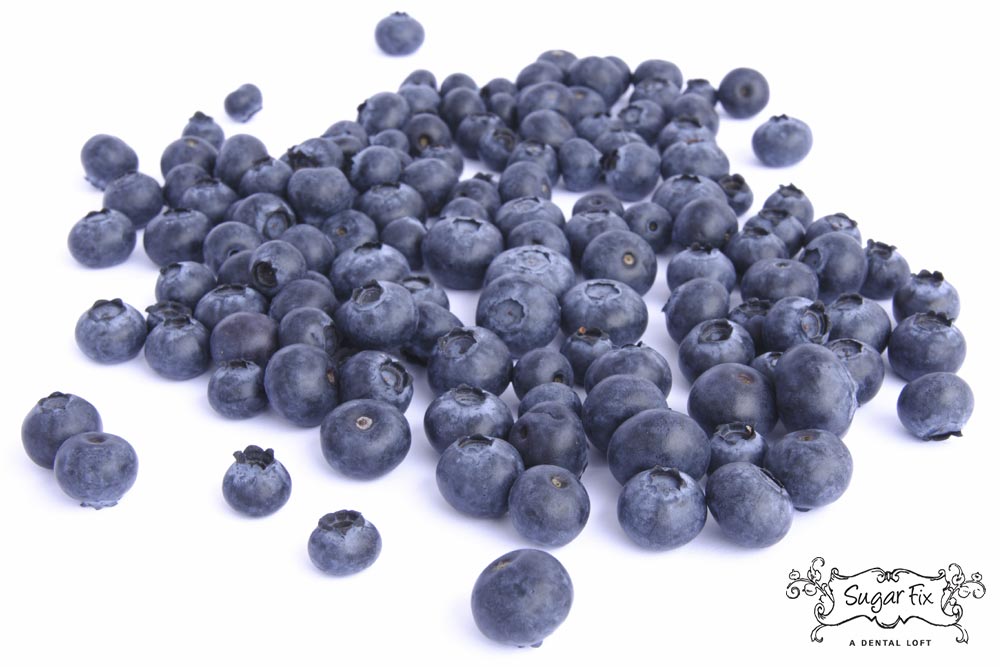 Post by The Doctor of Sugar Fix Dental.
Recently, quite a few patients have asked me about my diet. While I'm not a dietitian or a nutritionist by trade, I love food and health. So this blog post is about some of the recipes and food choices that I make every week.
Weekday mornings are usually busy, and I don't have a lot of time to make breakfast (let alone sit down to eat) so I've found a good solution for this.
On Mondays, I make 5 breakfast jars. These are 8oz mason jars with tin lids, the type used for canning. I fill each jar with 1/4 cup of organic rolled oats, 1 tablespoon of ground chia seeds and 1 tablespoon of ground flax seed. Give each jar a quick stir, then add 1/4 cup of unsweetened almond milk, or vanilla unsweetened almond milk. A quick squeeze of honey goes into each jar as well. Adds fruit, usually blueberries. I load the jars with fruit, but you can put in as much as you like. Secure the lid and store in the refrigerator. These 5 jars get me through the work week. You can eat them right out of the refrigerator, or heat them quickly (30 seconds or less) in the microwave.
For lunch, I fluctuate between two of my favorites; salad or toast with avocado.
For the salad, I make 2-3 salad jars on Mondays. These are very similar to the breakfast jars, except these jars are the 32 oz. kind. First goes in 2 tablespoons of salad dressing. I'll add cut up tomatoes, cucumbers, corn, broccoli, sprouts, and more. For lettuce, I prefer a mix of romaine and spinach. I might add a few small chunks of goat cheese at the very top. Seal the lid and done. Lunches are ready and can stay in the refrigerator for up to 5 days!
Toast with avocado is another hearty but healthy lunch option. I'll toast 2 slices of Ezekiel whole-grain + flax seed bread (found in the frozen section at Whole Foods), then quarter each half of an avocado and smear it onto each slice of toast. I'll drizzle just a bit of olive oil over the avocado, that's a light, delicious and nutritious lunch!
My other option for lunch (or snacks) is smoothies or juice. I have a Vitamix blender in the break room, and I make sure I always have fresh fruit and veggies on hand. My smoothies usually consist of dairy-free yogurt, a splash of unsweetened almond milk, ice, fruits and vegetables, and maybe a squeeze of honey. Sometimes I will throw in a handful of the rolled oats to make it a bit more hearty and filling. While I own a juicer, it's a large piece of equipment, and I keep it at home. I try to drink fresh juice at least once a week. In fact, the whole family drinks juice and loves it!
I always have a large stash of nuts on-hand if I feel the need to have a quick snack.
Water is very important, and I drink it often throughout the day.
To maintain this lifestyle, I think it's important to be organized and to plan ahead. I eat so many raw and fresh ingredients, grocery shopping can be quite quick and easy. I've found that if I make the jars at the beginning of each week, I go out to eat much less. I don't experience low blood sugars, now that I have so many healthy foods on-hand.
In the long run, I save money by not spending it on fast-food, but I simply enjoy eating healthy, and I like the way it makes me feel.
Call us at (773) 883-1818 or email us today.