Happy Wednesday Everyone!
Sugar Fix Dental Loft is busy making smile makeovers today!  We get a lot of questions about whitening every day here at The Loft. And we always recommend a great toothpaste to start off with.
Toothpaste comes in all varieties of colors and flavors. So whatever your dental needs may be, choosing a toothpaste with fluoride is important as it is effective in preventing tooth decay, strengthening your enamel, and lowering the risk of getting cavities. There are a lot of whitening products (not just toothpaste) on the shelves and sometimes it can get overwhelming to decide which one to use. If you're just starting your search for the best way to whiten teeth, you may want to start with one of the easiest products to use, whitening toothpaste.
As more people are looking for a whiter and more radiant smile, the search for the perfect toothpaste can be hard! Luckily, we're here to help you narrow down the selection.
One of the most popular ones out there is Crest 3D Whitening. You probably have seen their popular purple packaging sitting on the shelves. The main characteristic of Crest 3D White is the fast and quick results. Crest has a line of products and many different types of toothpaste. Here at Sugar Fix, this is probably one of our favorites. Crest Whitestrips work great as well if you're ever in a pinch for time!  They work for most people too, even if you are a heavy coffee drinker. That means you can actually drink as many cups as you like and still keep a relatively clean, white smile.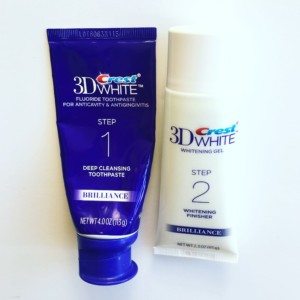 Another popular one we suggest would be Sensodyne True White.  Sensodyne is a great toothpaste because when you have sensitive teeth it's frustrating to find a normal whitening toothpaste that does not provide the protection your teeth require.
In recent research, Sensodyne has found that people are gambling with their chances of pain-free teeth in the hope of getting whiter teeth.   I know a good percent of us wish our teeth were whiter and with the rise of social media, the pressure for a whiter smile is higher than ever!
So in view of all of this, Sensodyne has launched a one toothpaste solution, Sensodyne True White. This low abrasion toothpaste is designed to care for sensitive teeth and gently lift stains, whiten, and prevent further stains with regular brushing. The toothpaste is kind to sensitive teeth and is ten times less abrasive than typical whitening toothpaste.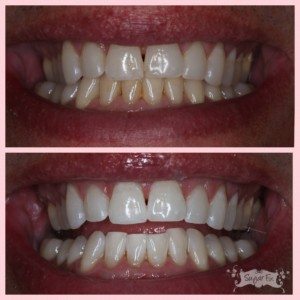 Along with great whitening toothpaste, Dr. Brittany Dickinson and the Sugar Fix Team offer great whitening treatments inside our office!
Zoom whitening takes your smile up to 3 shades lighter, as well as our KOR Whitening system.
If you ever have any whitening questions, give our office a call!  We'd love to talk teeth with you! : )