Happy Friday Everyone!
It's the week back from Thanksgiving. One holiday down, many more to go!! Here's our round-up of the week!
Dr. Jessica Emery and family jetted off to Florida to spend some time at the Happiest Place On Earth, Walt Disney World!! They are enjoying being with Mickey, Minnie, and the whole gang!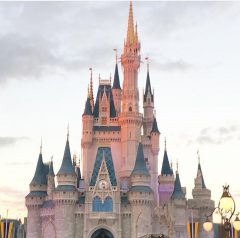 Damage to your teeth can cause stress and embarrassment. Fortunately, when it comes to reshaping and transforming your smile, you have a lot of options. Lakeview cosmetic dentist Dr. Jessica Emery is very skilled in the art and science of using advanced dental technology to give you a complete smile makeover.
With so many options, it can be difficult to narrow down your decision to find the exact treatment that is right for you. We understand that there is a lot to consider – you want the treatment that will give you the best results you want at a cost you can afford.
Our favorite part of this week was seeing the amazing transformation, not only in our patient's smile but in his confidence! He had old front facial bondings that were beginning to be worn down, as well as the color matching not being flush. Many patients are unaware of the veneer process that can enhance your smile. The first step is creating diagnostic casts. Dr. Emery personally goes over each individual case with the lab to ensure the size and shape of each veneer are just right. The next step generally includes ZOOM whitening. This is an in-office treatment that boosts the shade of your teeth to make them whiter and brighter. Finally, we try in the veneers and Dr. Emery gives an impeccable critique to make sure they are absolutely perfect and to your liking. Once all is set, you're ready to show off the confident smile you've always dreamed of.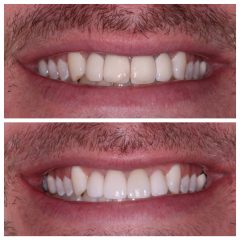 If you have questions or would love to come in for a consultation with Dr Emery, go ahead and give her a call or book an appointment below. We'd LOVE to talk teeth with you!
Until Next Time,