Happy Friday Sugar Fix Followers, are you looking for a stunning smile before the holidays?
We can help you straighten your teeth with Invisalign and Propel!
This week, I wanted to let you know about my personal experience with Invisalign and the Propel treatment.  I only have 4 trays left and started just over a month ago!
Before Invisalign and mid-treatment!
After having already done Invisalign once and having to start all over again from not wearing a retainer (horrible, I know!), I did not want to do another year and a half of treatment!
We were introduced to Propel and it is my personal favorite product right now!  It was such an easy system to start using.  After our rep Kate came in, The Doctor got me numb and did the Propel "dental dimples" in my tissue.  It was SO much less invasive that I thought and the next day there was barely any soreness!
The most important thing is to stay on Tylenol only.  Taking this and not Advil before and after the Propel treatment is done is key for that natural inflammatory response.
What I can say from the treatment that I LOVED was the teeth not being sore and achy from each new Invisalign tray.  When the traditional treatment is done, the ligaments of the teeth are so tight that it tends to be more sore.  With Propel, I think this feeling is significantly reduced.  I also like how new and clean the trays always are after only 3 days of wear.  When you do 2 weeks per aligner, they start to discolor and require much more cleaning.  This way it is always easy, clean and clear!
The whole process is simple– less soreness and only 3 days per each tray!  I love it and would recommend it for absolutely anyone!
That is it for this week! Stay tuned for next week's Sugar Fix blog, and remember, with our 10 year anniversary giveaway to refer a friend for an entry to win the Beverly Hills Sweet Escape!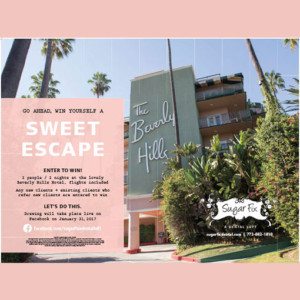 Love,
The Sugar Fix Team, xoxo