What a great week at Sugar Fix!  Definitely feeling the fall this week, we hope the rain holds out over the first October week for us to enjoy it!
We had a great celebration day at Sugar Fix when our patient finished her Invisalign and Propel Treatment!  She had straight teeth in 30 days!  Just three days per aligner and had an Invisalign Express 10 case!  The results are great, and that patient said that the time flew by so fast that she was done before she knew it.  Traditionally, it would have taken about five months to complete the Invisalign Express treatment, however, instead of two weeks per tray, it was only 3 days!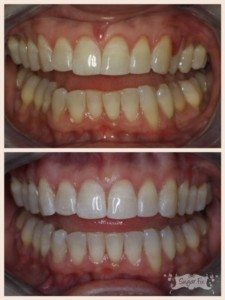 Her before pictures are very typical of a lot of our patients.  Several of them have had orthodontics as a young adult and have lost their retainers or their lingual bars have popped off.  As a result,  teeth start to drift inward and become crowded.  You can see on the before and after photos that the lower crowding and the upper front teeth cross-over are fixed and looks great, especially after her gorgeous whitening!  This does not make for easy cleaning and usually are patients are not happy with the appearance.  For both reasons, we suggest the "quick-fix" at Sugar Fix of Invisalign and Propel treatment!
Stay tuned to more quick fixes with Propel and our blog next week!
Love,
The Sugar Fix Team xo