Happy Friday Sugar Fix Friends!  We hope your week has been amazing!!  Here's a wrap-up of our week:
On Monday we had our 4×4 meeting (a monthly meeting) and discussed our book-club book from last month.  The book we read was, Thinking for a Change by John C. Maxwell.  It was a great book and was enjoyed by all.  The main focus of the book was to help us expand our way of thinking in a positive way and to use creative thinking to make a unique difference in our jobs and in life!  Our team all shared ideas on implementing the best care for our patients and we have many new ideas coming your way!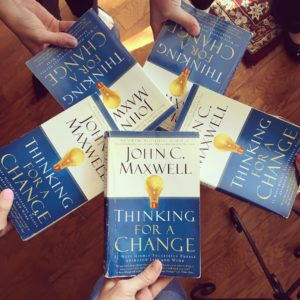 Smile transformations were in full effect at Sugar Fix!  Last week, we completed ZOOM whitening, this week we completed a smile transformation for our patient!  His original teeth had large composite bondings, wear, and chips on them.  All of these concerns were addressed in his final restorations.  In order to achieve his smile-ready look, we also repaired a large notch on his lower tooth that had been worn down.  He loves his new smile and was very happy with how natural the 10 crowns/veneers we created the look.  He now has a picture-perfect smile!  The final picture below is just of his temps!  In two weeks we will deliver his final gorgeous porcelain restorations, he is very excited!  (So are we!!)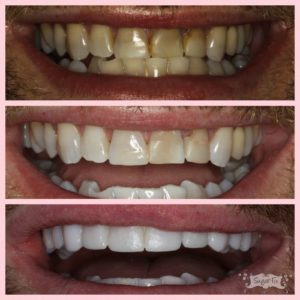 We had a BLAST with social media this week as well!  We are learning all about Snapchat (creating a daily "story" that you don't want to miss because they "disappear" after 24 hours!).  We also uploaded our library of educational and fun videos onto our Pinterest page.  We have created videos where we've broken down some of the most common patient dental questions and put them into short, explanatory videos.  Here's a link to that page:  https://www.pinterest.com/sugarfixdental/   If you watch a video (or two or three or more!) and you like them, we'd be so appreciative if you'd take a moment to "LIKE" them or share them with your friends or family that might benefit from them as well!
The series shows the original smile of the patient, the temporaries in the middle picture, and the last picture is the beautiful smile with porcelain veneers.  The patient is so happy with the new smile that eliminated the crowding of her teeth and gave her a perfectly symmetrical and broadened smile.  Her next step is to do Invisalign to correct her lower arch.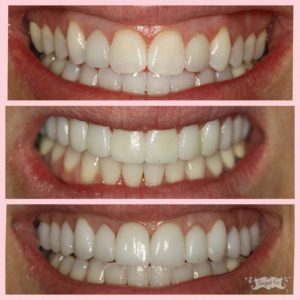 That is it for this week, stay tuned for next week's case of a veneer delivery and ZOOM whitenings!
Love,
The Sugar Fix Team
xoxo