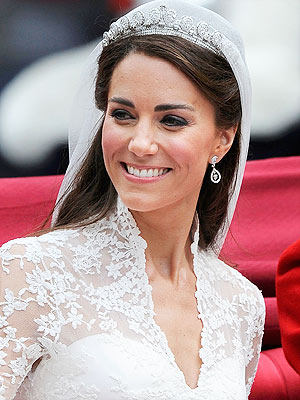 If anyone knows how to prepare and plan the perfect wedding, it is the unstoppable Martha Stewart. As soon as the engagement is official, the hunt is on for that elusive one-of-a-kind white dress. What goes well with a white gown for the impending nuptials? White teeth.
The American business magnate says to avoid your food and drink foes starting about two months before your wedding. This is one subject that Martha may not know exactly what she is talking about. No need to fret. Chicago cosmetic dentist Brittany Dickinson, DMD, is an expert on teeth whitening. As a bride herself not too long ago, she knows firsthand how having white teeth on your big day can make all the difference. After all, you will be looking at those photographs for the rest of your life. Why not have a gorgeous smile to stare at while reminiscing?
DARK DRINKS
Martha's website states: "Deeply pigmented beverages such as soda, coffee, dark tea, and red wine can stain teeth, as can foods like blueberries, cherries, and soy sauce. 'If it will stain white cotton, it'll probably stain your teeth,' says Kenneth Kerman, a dentist in Brooklyn, New York. Beware of white wine, too. All vino — whether colorless or red — can roughen up tooth enamel and make your smile more susceptible to stains."
KÖR WHITENING
This is all true. We are not denying the power of pigmented beverages and their staining effect on teeth. However, as we mentioned in a previous blog post KöR Whitening #MakesMeSmile, Kör Whitening in no way forces you to avoid your food and drink foes! Planning a wedding does not require you to change your lifestyle. You don't have to refrain from drinking your morning cup of joe or your afternoon pick-me-up tea. You don't need to decline your host's offer of a glass of wine at parties you attend. KöR Whitening will allow you to enjoy your path to the altar and not worry about your smile losing its sparkle.
EAT WHAT YOU WANT
Martha Stewart may be the reigning queen of homemaking, but she should leave dentistry to the dentists.  Getting a winning wedding day smile in no way means you have to beat out your food adversaries in the battle to have white teeth on your special day. The antioxidant and nutrient value of blueberries and cherries are too vital for your health to be cut from your diet. Deeply pigmented fruits can be a part of your lifestyle with KöR Whitening.
PRE-WEDDING PAMPERING
Wedding planning website The Knot knows a thing or two about flashing a gorgeous grin. They may even know a bit more than Martha. In an article titled "Prewedding Pampering," The Knot states, "You can have the softest lips and the perfect lipstick, but if your teeth are yellow you won't want to flash a smile. Dentists remain the best source for the most dramatic results by way of bleaching products, which contain peroxides that can help remove stains to reveal teeth that are five to seven shades whiter."
A PROCEDURE FOR THE PROCRASTINATOR
Always waiting until the last minute to cross things off your to-do list? One of the best attributes of the KöR Whitening Deep Bleaching™ System for all the procrastinators out there is that you can wait up until two weeks before your big day to have the procedure. In only 14 days, your formerly not-so-pearly whites will be blinding your guests as you walk down the aisle. Contact Dr. Brittany Dickinson and her team at Chicago's Sugar Fix Dental Loft today to plan your whitening treatment for what will be the best day of your life.