Hey, all you Sugar Fix Dental Loft blog readers!  We thought we'd shake things up a bit by writing a blog for you that has to do with a topic we REALLY LOVE = oral health!  But…there's a little twist, this blog is about the oral health of "man's best friend" A.K.A.= your pet!
Since February is pet dental health month, I found it a great opportunity to write about something I really love which is my pet dog, Spot.  (She is in the picture of this blog!)  For most of us pet owners, we care for our animals as if they were a member of our family and well, that is basically because they are!  We walk our dogs to give them exercise as we do for ourselves. We feed them meals because they need nourishment just as we do.  And of course, we give them lots and lots of love!
Even at Sugar Fix Dental Loft, we show you how much we love you & your pet!  In addition to taking care of all of your oral health needs, we try to always have a bowl (pink & white, of course!) of fresh water outside our business door for your dog to enjoy as you walk by!  And, if I am ever out and about with the Sugar Fix Dental Loft beach cruiser bike, I carry dog treats to hand out as well!
Did you also know that it is important to take care of your dog's oral health?  We do not bathe our dogs on a daily basis (like we humans do) so dogs use their mouths to help clean their paws and even wounds.   We like them to have good breath just as we wish that for ourselves.  To address the significance of oral health care for pets, I would like to educate our patients and other pet owners on just how important this is.  Just imagine how gross your mouth would be if it were never brushed?  Do your pet's gums look red and inflamed?  Can you see build-up and colored stains on your pet's teeth?  If so, I suggest you take him or her to the vet.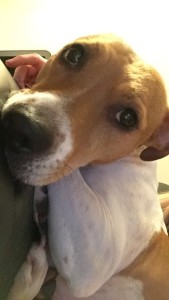 Pets and all animals can get oral gum disease.  The cause of dental disease in humans is the same cause in pets, believe it or not! The difference is that we humans have the capability to brush and floss our teeth after every meal.
Here are some tips on how to help that furry family member get a little extra attention for their oral health.  First, there are special diets and treats to give your pets to help them remove some of the bacteria in their mouth.  Next would be once a year to get their teeth professionally cleaned.  Now is the PERFECT time to do this, as most veterinarians offer specials during the month of February. They also carry special toothbrushes and toothpaste for your pets as well.  After you have your pet's teeth professionally cleaned, it's important to maintain their oral health.  Bad oral health care in pets (as well as in humans) can lead to heart conditions and other diseases.
Written by a pet lover for pet lovers,
Patricia (Tricia) Pajac