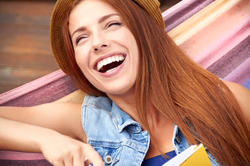 If you feel that you could benefit from orthodontic treatment, but you have been hesitant to investigate your options because you don't want to wear conspicuous metal braces, we have good news for you. You may be a candidate for orthodontic treatment with virtually invisible Invisalign® aligners. These clear, custom-crafted aligners offer a wealth of benefits that distinguish them from conventional braces, including the fact that they can be removed for eating, brushing, and flossing, and that they are extremely comfortable, lacking the wires and brackets that can make traditional braces so cumbersome and painful.
At Sugar Fix Dental Loft in Chicago, Invisalign® candidates are carefully evaluated to make sure that they will benefit from the treatment. Although most patients with orthodontic issues are good candidates for Invisalign®, there are exceptions. If you are not a good candidate for Invisalign®, we will suggest an alternative treatment that is better suited to your particular case.
Is Invisalign® the right treatment for you? The only way to know for certain is to meet with Dr. Brittany Dickinson for a confidential consultation at her state-of-the-art dental loft at your earliest convenience.
What Is Invisalign®?
Invisalign® is an orthodontic system that uses a series of customized aligners to gradually shift the teeth toward their optimal positions within the mouth. Every two weeks, one aligner is replaced with the next in the series, until the goal of treatment is achieved. In most cases, treatment with Invisalign® is as efficient and affordable as treatment with conventional metal braces, and it may even be covered by your insurance policy.
Candidacy for Invisalign® Treatment
Most patients who are candidates for treatment with conventional metal braces will also be suitable candidates for treatment with Invisalign® aligners. Invisalign® is effective at correcting a variety of mild to moderate orthodontic issues, including:
Gaps between teeth
Crowded teeth
Crossbite
Overbite
Underbite
The less severe your orthodontic issue, the more likely you are to be a good candidate for Invisalign®. You may not be a good candidate for Invisalign® if you:
Have teeth that are rotated more than 20 degrees from their ideal positions in relation to adjacent teeth
Have impacted teeth
Have bite problems related to poorly positioned back teeth
Have gaps between teeth that total more than six millimeters on a single arch
Have a severe overbite
Have teeth that tilt significantly either forward or backward
Have severe malocclusion
There are instances in which Invisalign® may be recommended even in fairly severe cases. Dr. Dickinson is a certified Invisalign® dentist; she is able to identify those cases in which Invisalign® will yield the best possible results. If Invisalign® is not the most effective treatment available in your case, then she will recommend an alternative treatment plan that will give you the results you desire.
Find Out Whether You Are a Suitable Candidate for Invisalign®
If you would like to find out whether you are a suitable candidate for Invisalign® treatment, or you want to schedule your initial consultation with Dr. Brittany Dickinson, please contact Sugar Fix Dental Loft today.