Happy Friday!
We had a full week of amazing Cerec cases with 16 perfect gems milled out on our "3-D printer".  The Sugar Fix Team was busy making crowns and onlays for our patients.  We were, also, really busy getting ready for our next cosmetic case at Sugar Fix!  Our patient came in with old crowns on her lateral teeth (right next to her two front teeth).  These PFM (porcelain fused to metal) crowns do not match her natural teeth and are definitely not ideal for the smile she is trying to achieve!  She originally had this done because she was born with naturally smaller teeth called peg-laterals.  This is a very common circumstance that is usually addressed with crowns or veneers. Luckily, this patient sought out Sugar Fix Dental Loft because she wanted to see the top Chicago dentist!
With wedding plans on the horizon, she decided it was time to get her smile ready!  We had a consultation with the patient to decide what her best options were to enhance her smile.  We recommended Invisalign, Zoom whitening, four veneers/crowns on her front teeth, and a night guard at the end of treatment to protect everything.  With her plans coming up soon, we decided to hold off on the Invisalign for now, as it's something she can always come back to at a later date.  This way, she can budget her money where she wants to spend it- on the four front teeth first!
We started the process right away by taking impressions for the lab to get started on creating her perfect smile.  We would even out her gum tissue with some re-contouring and make everything even across her smile look both natural and fabulous!  We, also, want the shade we pick to be as bright as possible because of the investment she is putting into her new look.  We completed the Zoom whitening the same day, and she loves the results!  We brightened up everything and will match the veneers to her new, bright, white smile.  Her results are below, and we think she looks fabulous! Don't you??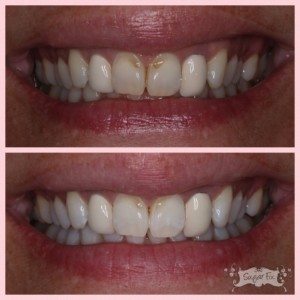 Additionally, we had a fun shoot with our creative team for a future project!  Shout out to our amazing creative collaborators Louie Abellera and Mirar Productions! Stay tuned for that, and check out the collage below for a sneak peek! Also, be sure to show us some social media LOVE!! Follow Sugar Fix Dental Loft on Facebook and Instagram!
Until next week,
The Sugar Fix Team xoxo