Happy Friday everyone!
The main topic this week at Sugar Fix is going to focus on breaking teeth. We never want this to happen to our patients as sometimes it can hurt or is sharp and might even require seeing a specialist!  What can you do to help prevent this from happening? Protect those teeth!  We say it time and time again and can not stress it enough, night guards are EVERYTHING nowadays.
We are programmed now to constantly be thinking of our next move, the "to-do" lists of the day/week, and we live off of our calendars and emails on our phones.  Our brains are constantly in "GO" mode during the day and even when we sleep!  We carry this stress in our jaws with clenching and grinding. This then results in worn dentition and broken teeth.  Even if you think that you don't, be conscious of it during the day and you will notice! Pay close attention while you are working, focusing on a task, or even at the gym!  It really is amazing how natural it becomes a part of your everyday habit and goes unrecognized.  A large portion of our patients is recommended to wear one because of their extreme clenching, chipping, or breaking teeth.
A recent example below shows a new patient of ours. She fractured a large portion of one tooth and has a large fracture down the side of another tooth from clenching.  She was never told to wear a nightguard that may have prevented this from happening.  Fortunately, we did not have to send her to a specialist for a root canal, but she definitely came close!  In one day, we used our amazing Cerec to make her strong, porcelain onlays. Now she is waiting for her nightguard to be delivered.  This will start "deprogramming" her tight jaw muscles into a more relaxed position.  Usually, you will see results right away where muscles start to relax, even in your neck and shoulders!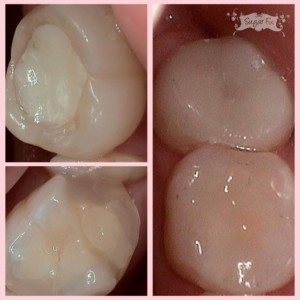 If you know of anyone who grinds their teeth or has broken teeth, please urge them to get in to see us before their situation gets any worse.
Another little tip from Team Sugar Fix, in addition to wearing a nightguard, is to relax by incorporating yoga into your daily routine!  Check out Hannah going to Core Power Yoga after work in her Sugar Fix gear!  Definitely a de-stressor!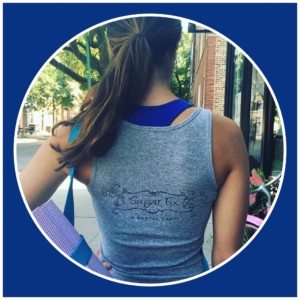 That's it for this week!
Love,
The Sugar Fix Team xoxo